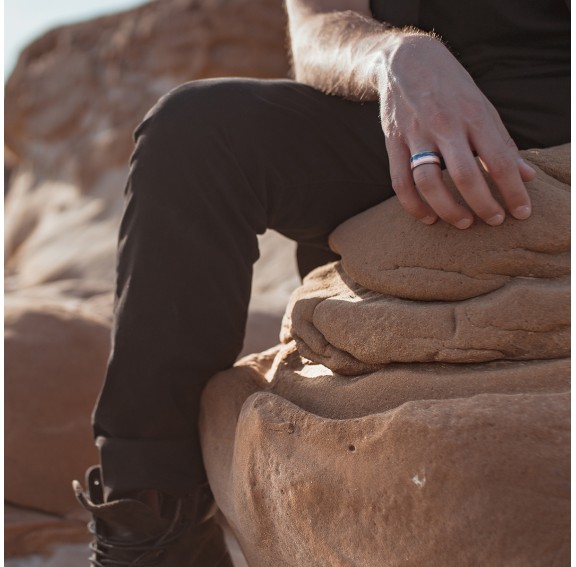 If you have a ring and want the same size you can find
the size of that ring from the
step 1
Cut out a strip of paper
step 2
Wrap the paper snug around your finger closest to the widest part, like your knuckle. Please remember not to wrap the paper too tightly around your finger, or you will have problems getting the ring over your knuckle. Keep in mind your fingers will swell, and you should leave a little room for the ring.
step 3
Mark the spot where it meets and completes the circle. It shouldn't be too tight, nor too loose.

step 4
Measure the distance with a ruler [in mm or inch].
Measure it from the beginning of the paper up to the mark you have made.
That's your finger's circumference.
step 5
Find out your ring size on our conversion chart.
Find "Inside circumference" measurement on our conversion chart to find the corresponding ring size.
- Measurement Tips -
Measure end of the day
The best time to measure your finger is at the end of the day when it is at it's largest. Take at least two measurements for accuracy.
Thick bands feel tighter
Keep in mind that thicker rings feel tighter than thinner ones.Choosing a size up for thicker bands will give you a more comfortable fit.
Warm hands
Take your measurements when your hands are warm, since your fingers shrink when they are cold.
German

Size

EU

Inside Diameter (mm)

Inside

Circumference (mm)

Inside

Circumference (inch)

41
13.10
41.16
1.62
41.5
13.25
41.63
1.63
42
13.40
42.10
1.65
42.5
13.55
42.57
1.67
43
13.70
43.04
1.69
43.5
13.85
43.51
1.71
44
14.00
43.98
1.73
44.5
14.15
44.45
1.75
45
14.30
44.93
1.76
45.5
14.45
45.40
1.78
46
14.60
45.87
1.80
46.5
14.80
46.50
1.83
47
15.00
47.13
1.85
47.5
15.15
47.60
1.87
48
15.30
48.07
1.89
48.5
15.45
48.54
1.91
49
15.60
49.01
1.93
50
15.90
49.95
1.96
50.5
16.05
50.42
1.98
51
16.20
50.90
2.00
51.5
16.40
51.52
2.02
52
16.60
52.15
2.05
52.5
16.75
52.62
2.07
53
16.90
53.09
2.09
53.5
17.05
53.57
2.10
54
17.20
54.04
2.12
54.5
17.35
54.51
2.14
55
17.50
54.98
2.16
55.5
17.65
55.45
2.18
56
17.80
55.92
2.20
56.5
17.95
56.39
2.22
57
18.10
56.87
2.23
57.5
18.30
57.49
2.26
58
18.50
58.12
2.28
58.5
18.65
58.59
2.30
59
18.80
59.06
2.32
59.5
18.95
59.54
2.34
60
19.10
60.01
2.36
60.5
19.25
60.48
2.38
61
19.40
60.95
2.39
61.5
19.60
61.58
2.42
German

Size

EU

Inside Diameter (mm)

Inside

Circumference (mm)

Inside

Circumference (inch)

62
19.80
62.21
2.44
62.5
19.95
62.68
2.46
63
20.10
63.15
2.48
63.5
20.25
63.62
2.50
64
20.40
64.09
2.52
64.5
20.55
64.56
2.54
65
20.70
65.03
2.56
65.5
20.85
65.51
2.57
66
21.00
65.98
2.59
66.5
21.15
66.45
2.61
67
21.30
66.92
2.63
67.5
21.50
67.55
2.65
68
21.70
68.18
2.68
68.5
21.85
68.65
2.70
69
22.00
69.12
2.72
69.5
22.15
69.59
2.73
70
22.30
70.06
2.75
70.5
22.45
70.53
2.77
71
22.60
71.00
2.79
71.5
22.75
71.48
2.81
72
22.90
71.95
2.83
72.5
23.05
72.42
2.85
73
23.20
72.89
2.86
73.5
23.40
73.52
2.89
74
23.60
74.15
2.91
74.5
23.75
74.62
2.93
75
23.90
75.09
2.95
75.5
24.05
75.56
2.97
76
24.20
76.03
2.99
76.5
24.35
76.50
3.01
77
24.50
76.97
3.03
77.5
24.65
77.45
3.05
78
24.80
77.92
3.07
78.5
24.95
78.39
3.09
79.5
25.30
79.49
3.13
80
25.50
80.12
3.15
80.5
25.65
80.59
3.17
81
25.80
81.06
3.19
81.5
25.95
81.53
3.21
82
26.10
82.00
3.23